Sunday Sermon Notes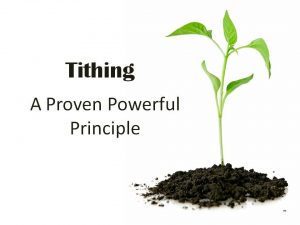 There are many things that God has revealed to us in his word on how we are to live and how we can secure blessings from him. However, there is one simple principle of exchange that all can do to experience a better quality of life starting today. In this exchange we can be perfect in doing what God tells us to do thereby guaranteeing the promises associated with this is a certainty in our lives.
THE EXCHANGE AND
THE TITHE
THE TITHE IS THE MEDIUM OF EXCHANGE WE ALL HAVE AVAILABLE TO USE WITH GOD IF WE WANT TO SECURE THE CERTAINTY OF HIS BLESSING TO US.
Le 27:30 A tithe of everything from the land, whether grain from the soil or fruit from the trees, belongs to the LORD; it is holy to the LORD.
THE TITHE IS HOLY TO GOD!
It is easy to do paper example

It may not mean anything to us, but God says, it is holy to him.

You may argue this principle all you desire but history has shown God blesses people who honor him with what he says is holy to him.

Huge! blessings are related to those who are fully committed to do it.

Why? It is holy and therefore important to God. It is his and he wants it given to him.
REMEMBER WHAT GOD DID TO PHARAOH WHEN HE HELD ON TO WHAT HE SAID WAS HIS?!
Mal 2:7 "For the lips of a priest ought to preserve knowledge, and from his mouth men should seek instruction—because he is the messenger of the LORD Almighty. 8 But you have turned from the way and by your teaching have caused many to stumble; you have violated the covenant with Levi," says the LORD Almighty. 9 "So I have caused you to be despised and humiliated before all the people, because you have not followed my ways but have shown partiality in matters of the law."
Some quick examples of when he blessed people for giving him what was important to him back to him.

God favored Abel because he gave it to him / Gen 4

Noah gave it to him/ Gen 8:20

Abraham did it giving it to Melchizedek/ Gen 14:18

Jacob did it to secure his blessings
Ge 28:20 Then Jacob made a vow, saying, "If God will be with me and will watch over me on this journey I am taking and will give me food to eat and clothes to wear 21 so that I return safely to my father's house, then the LORD will be my God 22 and this stone that I have set up as a pillar will be God's house, and of all that you give me I will give you a tenth."
Ge 31:1 Jacob heard that Laban's sons were saying, "Jacob has taken everything our father owned and has gained all this wealth from what belonged to our father." 2 And Jacob noticed that Laban's attitude toward him was not what it had been. 3 Then the LORD said to Jacob, "Go back to the land of your fathers and to your relatives, and I will be with you." 4 So Jacob sent word to Rachel and Leah to come out to the fields where his flocks were. 5 He said to them, "I see that your father's attitude toward me is not what it was before, but the God of my father has been with me. 6 You know that I've worked for your father with all my strength, 7 yet your father has cheated me by changing my wages ten times. However, God has not allowed him to harm me. 8 If he said, 'The speckled ones will be your wages,' then all the flocks gave birth to speckled young; and if he said, 'The streaked ones will be your wages,' then all the flocks bore streaked young. 9 So God has taken away your father's livestock and has given them to me.
Hezekiah did it 2 Chr 31:5 and he was able to Hezekiah God
2 Ki 20:1 In those days Hezekiah became ill and was at the point of death. The prophet Isaiah son of Amoz went to him and said, "This is what the LORD says: Put your house in order, because you are going to die; you will not recover."
2 Ki 20:2 Hezekiah turned his face to the wall and prayed to the LORD, 3 "Remember, O LORD, how I have walked before you faithfully and with wholehearted devotion and have done what is good in your eyes." And Hezekiah wept bitterly.
2 Ki 20:4 Before Isaiah had left the middle court, the word of the LORD came to him: 5 "Go back and tell Hezekiah, the leader of my people, 'This is what the LORD, the God of your father David, says: I have heard your prayer and seen your tears; I will heal you. On the third day from now you will go up to the temple of the LORD. 6 I will add fifteen years to your life. And I will deliver you and this city from the hand of the king of Assyria. I will defend this city for my sake and for the sake of my servant David.' "
All the people of God in Nehemiah's time
Ne 10:37 "Moreover, we will bring to the storerooms of the house of our God, to the priests, the first of our ground meal, of our grain offerings, of the fruit of all our trees and of our new wine and oil. And we will bring a tithe of our crops to the Levites, for it is the Levites who collect the tithes in all the towns where we work. 38 A priest descended from Aaron is to accompany the Levites when they receive the tithes, and the Levites are to bring a tenth of the tithes up to the house of our God, to the storerooms of the treasury. 39 The people of Israel, including the Levites, are to bring their contributions of grain, new wine and oil to the storerooms where the articles for the sanctuary are kept and where the ministering priests, the gatekeepers and the singers stay. "We will not neglect the house of our God."
Lk 11:42 "Woe to you Pharisees, because you give God a tenth of your mint, rue and all other kinds of garden herbs, but you neglect justice and the love of God. You should have practiced the latter without leaving the former undone.
As I have described it, what is the rent we owe God He said was holy to him?
THE TITHE IS AN ACT OF OBEDIENCE WE CAN BE PERFECT IN…THEREFORE,
WE CAN BE GUARANTEED THE FULLNESS OF THE PROMISE ASSOCIATED WITH IT!
Those who fail are under a curse.
Mal 3:8 "Will a man rob God? Yet you rob Me. "But you ask, 'How do we rob you?' "In tithes and offerings. 9 You are under a curse—the whole nation of you—because you are robbing me.
GOD ACCEPTS A TITHE IN EXCHANGE FOR THE EARTHLY BLESSINGS HE GIVES TO US!
The Tithe is the rent we owe God for blessing us

What happens if you don't pay your rent? You may be able to live in the house for a while but soon or later you will be evicted.

What happens if you don't pay your car note? You can drive it for a while but soon they will repossess it.

What happens if you don't pay your rent for the use of your body?
GOD FAVORS TITHERS!
In being fully committed to God, we must learn to give to God, what God declares is holy.
Le 27:30 " 'A tithe of everything from the land, whether grain from the soil or fruit from the trees, belongs to the LORD; it is holy to the LORD.
In this we can be perfect.

Avoiding sin by not falling into it can be treacherous. There are so many ways we can mess up. In tithing however we can be precise.

We know exactly how to be perfect in tithing.

We don't have to give anymore or of anything God does not first give to us.

We can be perfect in this
WE CAN BE PERFECT IN EXCHANGING OUR TITHE FOR THE BLESSINGS OF HEAVEN TO BE GIVEN TO US HERE ON EARTH!
We just need to be fully committed to do it!

Finally, here is how God concludes his words to the Israelites who will give him his Holy tithe in exchange for his blessing:
Mal 3:10 Bring the whole tithe into the storehouse, that there may be food in my house. Test me in this," says the LORD Almighty, "and see if I will not throw open the floodgates of heaven and pour out so much blessing that you will not have room enough for it.
11 I will prevent pests from devouring your crops, and the vines in your fields will not cast their fruit," says the LORD Almighty.
12 "Then all the nations will call you blessed, for yours will be a delightful land," says the LORD Almighty.
13 "You have said harsh things against me," says the LORD. "Yet you ask, 'What have we said against you?' 14 "You have said, 'It is futile to serve God. What did we gain by carrying out his requirements and going about like mourners before the LORD Almighty?
15 But now we call the arrogant blessed. Certainly the evildoers prosper, and even those who challenge God escape.' "
16 Then those who feared the LORD talked with each other, and the LORD listened and heard. A scroll of remembrance was written in his presence concerning those who feared the LORD and honored his name.
17 "They will be mine," says the LORD Almighty, "in the day when I make up my treasured possession. I will spare them, just as in compassion a man spares his son who serves him.
18 And you will again see the distinction between the righteous and the wicked, between those who serve God and those who do not.
It is time to be committed to tithe to God. You never have to tithe on what you don't have.

God is looking for what we are willing to exchange for his blessings.

Remember what Peter said about an exchange?:

Luke 18: 28 Peter said to him, "We have left all we had to follow you!"
29 "I tell you the truth," Jesus said to them, "no one who has left home or wife or brothers or parents or children for the sake of the kingdom of God 30 will fail to receive many times as much in this age and, in the age to come, eternal life."
Today again we will receive our offering and those who are willing to be fully committed will tithe and give offering in exchange for the certainty of blessings from God in their life

Mal 3:12 "Then all the nations will call you blessed, for yours will be a delightful land," says the LORD Almighty.

Then you will truly be able to say I am blessed and highly favored!