Bishop Jim Lowe
James L. Lowe, Jr., a Birmingham native, is the son of the prominent musician and jazz historian, J. L. Lowe and Roberta Lowe. He graduated A.H. Parker High School as Valedictorian and was a Cum Laude graduate of Birmingham Southern College receiving a B.A. in Business Administration. Jim is married to Patricia Bruce. He has three children, Bobby, James Louis and Adrienne.
He was called into the ministry at the age of six. After 20 years of trying to live life his way, he finally submitted to the will of God in 1978. He became an associate minister of the Sixteenth Street Baptist Church and later Minister of Music at the Macedonia 13th Avenue Baptist Church.
When The Guiding Light Church was formed, Jim was called to be the Assistant Pastor. When the original Pastor was called to another work, he became the Pastor. On May 6, 2003, he was ordained as a bishop by the International Communion of Charismatic.
Because of "Bishop" Lowe's obedience to the Word, he has witnessed the Mighty Hand of God prospering this ministry for almost 30 years of its existence and through unity and faith, God will do exceedingly and abundantly more.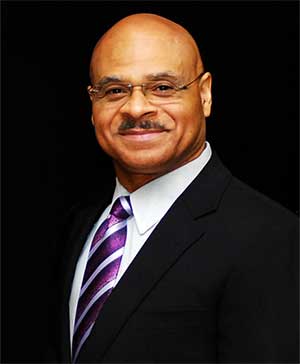 Bishop Lowe uses the early Christian church as a model for the development of the Guiding Light Church. His ministry, therefore, focuses on the solid teaching of God's Word, prayer, fellowship and communion of the saints as stated in Acts 2:42.
To fulfill the vision God has given him, several ministries have been established to help build and maintain the saints. These include the Share Life Movement which was established to promote God's Kingdom; the M.E.D.I.C. (Miraculous Evidence of Deliverance in Christ) which was established to minister God's will for healing to those who are suffering with sickness and disease; the Adult Day Care, a ministry developed to assist care-givers during the day in caring for family members who are disabled or afflicted with diseases (such as Alzheimer); and the Media Ministry and EXCELradio, which were established to fulfill the vision by reaching out into the world through television and internet with The Word of Truth Broadcast. The Media Ministry has a top rated television studio and recording suite which was used to record The Word of Truth and other Christian video programs for broadcasting for 17 years. The Guiding Light Church also has a strong Internet presence and has a web site to broaden, even further, the avenues for preaching the gospel to the world.
Bishop Jim Lowe and The Guiding Light Church family have committed to carrying out the vision that God has given this ministry individually and the commission that was given to every believer in Matthew 28:18-20, which reads: Then Jesus came to them and said, "All authority in heaven and on earth has been given to me. Therefore go and make disciples of all nations, baptizing them in the name of the Father and of the Son and of the Holy Spirit, and teaching them to obey everything I have commanded you. And surely I am with you always, to the very end of the age."
Bishop Jim Lowe serves as president on the board for Alabama Jazz Hall of Fame. He has held various position in the business community before entering full time ministry, including two years experience in sales with Pitney Bowes, 2 ½ years as an auditor with Liberty National Insurance Company and 12 years with SONAT as a computer systems analyst. He also owned a company, Gemlo Music Productions, and was founder of the Second Coming Gospel Group.  In the music field, he worked with The Moments (Love On a Two-Way Street), Andre Crouch, Edwin Hawkins, Anita Ward (Ring My Bell) and others.
Pat Bruce Lowe
Pat Lowe is an ordained Minister, Elder and Teacher at The Guiding Light Church. She oversees the drama ministry and works on several other committees alongside her husband, Bishop Jim Lowe, Senior Pastor.
Pat has written two books, "You Go Girl" and "Lord Teach Us To Pray", several movies including "Games People Play", "The Tale of Two Men", "I Believe", as well as hundreds of songs and skits. Pat is a conference speaker, exhorter, a mother and owns her own State Farm Insurance Agency.
Pat's favorite scripture is Matthew 6:33, "But seek first the kingdom of God and His righteousness, and all these things shall be added to you".