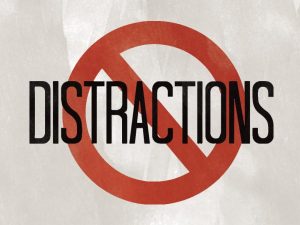 Wednesday Night Bible Study 
The Deception of Distractions
(NIV84) Mk 4:13 Then Jesus said to them, "Don't you understand this parable? How then will you understand any parable?
14 The farmer sows the word. 15 Some people are like seed along the path, where the word is sown. As soon as they hear it, Satan comes and takes away the word that was sown in them. 16 Others, like seed sown on rocky places, hear the word and at once receive it with joy. 17 But since they have no root, they last only a short time. When trouble or persecution comes because of the word, they quickly fall away. 18 Still others, like seed sown among thorns, hear the word;
19 but the worries of this life, the deceitfulness of wealth and the desires for other things come in and choke the word, making it unfruitful. 20 Others, like seed sown on good soil, hear the word, accept it, and produce a crop—thirty, sixty or even a hundred times what was sown."
Be Careful Of The Distractions In Life
19 but the worries of this life, the deceitfulness of wealth and the desires for other things come in and choke the word, making it unfruitful.
(KJV 1900) Mk 4:19 And the cares of this world, and the deceitfulness of riches, and the lusts of other things entering in, choke the word, and it becometh unfruitful.
(The Message) Mk 4:19 but are overwhelmed with worries about all the things they have to do and all the things they want to get. The stress strangles what they heard, and nothing comes of it.
(AMP) Mk 4:19 Then the cares and anxieties of the world and distractions of the age, and the pleasure and delight and false glamour and deceitfulness of riches, and the craving and passionate desire for other things creep in and choke and suffocate the Word, and it becomes fruitless.
DISTRACTIONS HINDER YOUR GROWTH
We will be discussing distractions in this study. There are three things mentioned in this verse.

Cares of this world

things that are important to this world. Of concern in this world.

deceitfulness of wealth

desires for other things, other than the word of God

this is what ruins many people.

My life story:

the call at six by God

introduced in college to the truth by white society

the derailment by white society; five years of wandering

a new quest for truth

Afrocentric theology through Islam

Universalism

atheism

Satanism

quest for religious enlightenment

denominationalism

Socialism versus democracy

capitalism versus communism

the end of the destructive path – suicide

the turn in the acceptance of the call

the acceptance of pastor

learning to be a father

growing in the apostolic

My purpose in life
(NIV84) Eph 4:12 to prepare God's people for works of service, so that the body of Christ may be built up 13 until we all reach unity in the faith and in the knowledge of the Son of God and become mature,
attaining to the whole measure of the fullness of Christ.
14 Then we will no longer be infants, tossed back and forth by the waves, and blown here and there by every wind of teaching and by the cunning and craftiness of men in their deceitful scheming.
15 Instead, speaking the truth in love, we will in all things grow up into him who is the Head, that is, Christ.
My job is to disciple you! Satan will seek to distract you from your purpose in this church.

This is a discipling church!
Distractions and subtleties are one of the major tools that Satan uses to destroy all of us!
(NIV84) Ge 3:1 Now the serpent was more crafty than any of the wild animals the LORD God had made. He said to the woman, "Did God really say, 'You must not eat from any tree in the garden'?"
DISTRACTIONS MOVE YOU AWAY FROM THE TRUTH OF GOD'S WORD
The serpent was more subtle (crafty, clever, shrewd). Look at his wording. "Did God really say, 'You must not eat from any tree in the garden'?"

what does this mean? It is actually opposite of what God said.

This lets us know that Satan works to the opposite of what God says. God said:
(NIV84) Ge 2:16 And the LORD God commanded the man, "You are free to eat from any tree in the garden;
He causes doubt and then lies to distract
(NIV84) Ge 3:4 "You will not surely die," the serpent said to the woman. 5 "For God knows that when you eat of it your eyes will be opened, and you will be like God, knowing good and evil."
(NIV84) Ge 3:6 When the woman saw that the fruit of the tree was good for food and pleasing to the eye, and also desirable for gaining wisdom, she took some and ate it. She also gave some to her husband, who was with her, and he ate it.
She sought wisdom other than the wisdom of God. She was seeking the knowledge of good and evil.

She was focusing on something other than what God told her to focus on.
What is to be life's focus?
(NIV84) Ec 12:9 Not only was the Teacher wise, but also he imparted knowledge to the people. He pondered and searched out and set in order many proverbs. 10 The Teacher searched to find just the right words, and what he wrote was upright and true. 11 The words of the wise are like goads, their collected sayings like firmly embedded nails—given by one Shepherd. 12 Be warned, my son, of anything in addition to them.
Of making many books there is no end, and much study wearies the body.
These are the concerns of life
13 Now all has been heard; here is the conclusion of the matter: Fear God and keep his commandments, for this is the whole duty of man. 14 For God will bring every deed into judgment, including every hidden thing, whether it is good or evil.
There are many things we can focus our attention on. Many things that can distract us from the right things that we need to do. We must keep in mind that we all have to give an account to God one day for the way we have lived our life.
(NIV84) Heb 9:27 Just as man is destined to die once, and after that to face judgment,
Many of us lose sight of what is major in life until sickness or death begins to bring us back around to what is important in life.

All that matters is, what we do for Christ.
(NIV84) Pr 14:12 There is a way that seems right to a man, but in the end it leads to death.
Ultimately there is only one thing that matters!
(NIV84) Lk 9:23 Then he said to them all: "If anyone would come after me, he must deny himself and take up his cross daily and follow me. 24 For whoever wants to save his life will lose it, but whoever loses his life for me will save it.
25 What good is it for a man to gain the whole world, and yet lose or forfeit his very self?
One can lose/miss it or one can give it up forfeit/pursuing
WE MUST BE FOCUS ON SALVATION!
There are many good things to do, but only what God says to do it what is important.
(NIV84) 1 Co 6:12 "Everything is permissible for me"—but not everything is beneficial. "Everything is permissible for me"—but I will not be mastered by anything.
13 "Food for the stomach and the stomach for food"—but God will destroy them both. The body is not meant for sexual immorality, but for the Lord, and the Lord for the body.
There are good things we should from time to time be focused on, but ultimately there is only one thing that is important. We must remember that all things will pass away. Only what we do for Christ will last.
(NIV84) 1 Co 10:23 "Everything is permissible"—but not everything is beneficial. "Everything is permissible"—but not everything is constructive. 24 Nobody should seek his own good, but the good of others.
Don't let the world get you caught up in its distractions. Keep your eyes on the prize! Keep your eyes on Jesus and his desire for your life.
We have to avoid distractions that will keep us from what truly matters
AVOID THE DISTRACTIONS IN LIFE
(NIV84) Lk 10:38 As Jesus and his disciples were on their way, he came to a village where a woman named Martha opened her home to him. 39 She had a sister called Mary, who sat at the Lord's feet listening to what he said.
40 But Martha was distracted by all the preparations that had to be made. She came to him and asked, "Lord, don't you care that my sister has left me to do the work by myself? Tell her to help me!" 41 "Martha, Martha," the Lord answered, "you are worried and upset about many things, 42 but only one thing is needed. Mary has chosen what is better, and it will not be taken away from her."
Martha's problem was that she became distracted. Greek word means twisted, to be drawn here and there, to be distracted. The idea is that Martha was drawn around and twisted with anxiety and worry. She was distracted, running here and there, being drawn by the cares of this person and that person that

she lost sight of the priority to worship Jesus.
(NIV84) Tt 3:8 This is a trustworthy saying. And I want you to stress these things, so that those who have trusted in God may be careful to devote themselves to doing what is good. These things are excellent and profitable for everyone. 9 But avoid foolish controversies and genealogies and arguments and quarrels about the law, because these are unprofitable and useless.